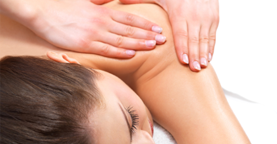 The massage therapists at ChiroCare realize that each individual has different needs when it comes to the soft tissue therapy they apply.
Often immediately after an injury, muscles are very sensitive to pressure. During this phase of recovery, our therapists focus on alleviating pain by reducing swelling and inflammation.
Once pain levels have decreased, more pressure can be applied allowing the therapists to focus on decreasing muscles spasms and realigning scar tissue. Regardless of what phase of care you are in, our massage therapists will cater to your personal preference and body's needs.